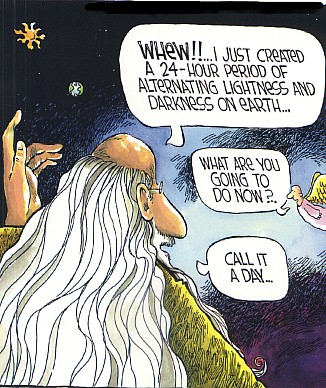 Genesis 1-3. The Creation story. Is there a passage of Scripture more argued about and fought over than this? I've been spending a lot of time in these first three chapters lately, and wondering if rigid dogma is really the best way to approach stories like this one (I know: surprise, surprise, right?) This week, I want to take you through some of my thought processes regarding the Hebrew creation story and what it means for us.
And I want to start with this thought (no use holding back on the first day, right?): if the creation story we found in Genesis were located in any other sacred text out there and some other religion was trying to pass it off as Truth, we'd call BS faster than you can say "punctuated equilibrium."
What is there to really believe is literally accurate in this story? A talking snake? The sky being made out of water? God creating day & night and light & darkness all somehow without the assistance of the sun? Or God creating "two great lights... the greater light to govern the day and the lesser light to govern the night." Evidently, someone -- notably God, in this case -- forgot to inform the Hebrews while he was inspiring them that the moon isn't a light (and the sun isn't any more special than any other star out there).
Okay, okay... I know I'm treading on thin ice here, but consider this for just a moment with me. Break this story out of its accepted framework in the Judeo-Christian tradition. What if you were reading this story and thought it came from, say, an African pygmy tribe? Or an ancient pagan culture, say from somewhere around Babylonia or maybe China?
If we're honest with ourselves, I'd bet our first reaction would be laughter, and then, "How could anyone think that is literally true? C'mon."
I'm starting this week with this uncomfortable question because it's largely where I've begun my re-evaluation of this creation story. I came to know Jesus in a conservative Southern Baptist church. We brought in preachers and teachers who taught that the only way you could rightly interpret Genesis 1-3 was absolutely literal. And I believed it with all my heart. I got together with a group of students from our church on a semi-regular basis to watch the young earth creationism videos from Dr. Kent Hovind, and ate them up. I loved it. Couldn't get enough of it.
It was only recently that I began to feel the freedom to question some of these hard and fast beliefs and reread the Genesis creation story for itself, not for any agenda being imposed upon it.
And that's when the ludicrousness of a talking snake - and the other stuff listed above - really hit me.
Think about how quickly we dismiss other cultures' creation myths (and notice also how quick we are to label them 'myths' as opposed to our 'true' version of events) because of how silly they are. Would not these other cultures look on our Hebraic story and think the same thing?
Isn't this what every creation myth has in common?
There's a simple and obvious reason for this: creation myths were... well, created... thousands (even tens or hundreds of thousands) of years ago by primitive people. They were a way of making sense of the world around them and the role they played in that world.
To an ancient people, of course it makes sense to call the sun the greater light and the moon the lesser light - and assume that the deity you worship created them specially for your world. They had no idea that there were billions of stars out there like the sun, or that the moon was just a chunk of rocky space debris like hundreds of others in our solar system.
So the all-important question then: is this story truth? Well, to the ancient Hebraic people it certainly was. And isn't that what matters? The creation story in Genesis 1-3 helps them - and us - understand and frame in their worldview. It helps us interpret their understanding of life and what roles they play in this world and how they (and we) relate to that Creator God.
Think about it - if you subscribe to a creation myth that holds the world was created by gods slicing one another apart or destroying things or some other random acts of violence, you are going to relate to those gods in fear. If your myth has gods that have overtly human flaws and can make mistakes and have to go back and fix decisions they made, you are not going to place any confidence or faith in those deities.
But if we worship the Creator God Elohim found in Genesis 1-3, we see that he is creative, interested in peace and harmony, merciful, benevolent, and desirous of a positive relationship with his creation. Our role is to pursue those values and that relationship with him.
This stands in marked contrast to nearly every other creation myth surrounding the Hebrews back when they wrote this one down. And that makes the question of "was there
really
a talking snake?" a lot less important.
(I realize this post, and this series, is going to make a lot of folks really uncomfortable. It makes
me
really uncomfortable. And I'm certainly not trying to propose that I've got anything completely figured out. I might not even fully agree with everything I write this week! My desire is simply to process with you - to throw some thoughts out there and spark some conversation - and some thinking of your own on this topic. So have at it - what do you think?
Coming up this week:
Tuesday - Out of Africa
Wednesday - Wise Men
Thursday - Jesus and Paul
Friday - Stuck in the Middle